Phoenix Lubricants' Customer Service aims to make shopping worry free and easier for you. For your information, we have detailed our store and website policies. You can view these by selecting one of the options below. To talk directly with a staff member, please email us at info@phoenixlubricants.com.au and we will get back to you.



Ways to Order and Pay

Return Policy

Ways to Order and Pay

Purchasing via our Secure Website

Whether just window-shopping or looking for something in particular, we have made browsing, searching and selecting items hassle free for you. While on any page of our website, you can utilise the Search functions at the top left of your screen. You will be able to search by Brand or Keywords as well as any combination of these. We have also implemented a comprehensive navigation system to allow you to find your product with the greatest of ease.

Once you've found something you think you might want to purchase, just click on the

button . Your Shopping Cart will stay with you while browsing our store, displaying a running total at the top left of your screen while you continue to shop.

We devised 5 quick steps to make purchasing online with Phoenix Lubricants' easy:

1. Your Order - can be adjusted anytime while you shop, as your shopping cart contents is constantly visible on the right hand site of your purchasing screens. When you're ready to purchase, just click on the 'Checkout' button, located at the bottom of your shopping cart contents, or, alternatively, click on 'View Cart / Checkout', located on the top right hand side of the screen.

2. Membership Sign In - if you are a member of the Phoenix Lubricants' website, you can log in here to save yourself some time as your membership account will store your name, address and telephone details. If you are not a member, you can register for free membership. Your email address will only be used to send you your Order Confirmation.

3. Address Details - ensure that you have your delivery address details on hand, as well as a contact telephone number for yourself.

4. Payment and Shipping - ensure that you have your PayPal account log in details or credit card handy to enter your card number, expiry date and security code, which are required to process your payment with PayPal. Here, you will also need to select your Shipping Method. These charges include packaging and delivery via the service you have selected within Australia and NZ and are calculated on the average weight of your total purchase as well as its destination.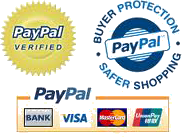 5. Receipt - once your card has been approved, a receipt page complete with an order number is presented as confirmation of your purchase. These details will also be sent in the form of a tax invoice/receipt by email. A packing slip which outlines your order will also be included when your parcel is delivered. The packing slip, however, will not contain pricing information.


Delivery and Returns



Availability
If any products in your order are no longer available, we will notify you via email or phone to confirm how you would like to proceed.

Order Processing and Deliver Times
Orders are processed at our warehouse in Melbourne, Monday through Friday (excluding public holidays). We generally aim to process orders on the same or following working day on receipt of the order and payment. However during heavy sales periods processing can take up to 4 working days.
Delivery may take up to 10 working days but should usually arrive within 2-5 working days. Remote interstate locations may experience a longer delivery timeframe. Delivery times are provided as a guide only and do not take into account possible delays caused by payment authorisation or reliance on external freight services.
A reference number for order tracking can be provided upon request.

Shipping your order
We deliver your order via freight service CouriersPlease. If no one is at the address at the time of delivery, the CouriersPlease driver will leave the package at a location on your property. We therefore recommend you provide an address where you will be located during office hours.
Once items have been dispatched, we are unfortunately unable to redirect orders.

Returns Policy
Our returns policy is in addition to your rights under the Australian Consumer Law.

We understand that shopping for homewares online can seem daunting, particularly when colour and design are so important. Exchanges and refunds on all full-priced items purchased online with us must be within 14 days of receipt of delivery. Discounted items are eligible for exchange within 14 days of receipt of delivery.

Requested exchange items are subject to availability. All returns must be unused, in original packaging, with tags attached and accompanied by a copy of the original invoice.

Our $9 flat rate postage and handling fee will apply to all exchanges and is payable by the customer. Original postage and handling costs are non-refundable and the costs associated with making a return are the customer's responsibility unless the return is as a result of a faulty item or is not what was ordered.

The item is your responsibility until it reaches us. For your own protection, we recommend that you send the parcel using a delivery service that offers tracking/insurance for the value of the goods.

Upon receipt of your return, we will process a credit note, refund or exchange depending on what you require. Returns by mail may take up to 2 weeks minimum to process. We will notify you by email upon receipt of the return to us.

Faulty/Incorrect Items
On receipt of delivery please ensure you check the product thoroughly for any faults or defects. If the item is faulty please contact us via email, quoting your order number, name and address, details of the product, the reason for return and whether you require a refund or replacement. We will then advise on how to proceed with the return. You have 30 days from the receipt of the faulty item to return it to us.

Return Instructions

1. Submit an enquiry to info@phoenixlubricants.com.au regarding 'Returns' with your order number and details of what you would like to return or exchange. Once we have received your enquiry, we will send you a returns authorisation form for you to fill out.


2. Pack up and return the unused items, in the original packaging with the returns form and include the invoice of your purchase with the package

3. Mail the return back to Phoenix Lubricants. For your security we recommend using a tracked or insured parcel service.

4. We will send confirmation via email once your return or exchange is received and processed. Refunds will be issued via the same form of payment originally used for the purchase


For information regarding the return of goods purchased online, please contact the Customer Service Department in one of the following ways:

p +61 3 9791 7661


e info@phoenixlubricants.com.au
www.phoenixlubricants.com.au